Let me start by telling you a joke.
"Five advices to men for a happy life:
Find a woman that helps you with the cleaning and the chores,
Find a woman that is a good cook,
Find a woman that you can trust and share your feelings with,
Find a woman that enjoys making love to you,
Last and the most important thing is that these four women should never meet."
So, I am writing an unusual job ad:
I am looking for an assistant who can do administrative tasks (but rather wouldn't).
I am looking for a hacker who loves automation.
I am looking for an innovator capable of thinking outside the box.
I am looking for a people person who is good at understanding people's needs.
And the most important thing is that it should be the same person.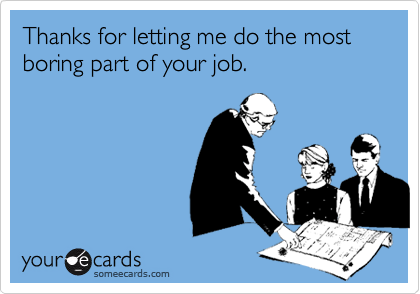 In other words, I am looking for a person who will be able to challenge us in any task we do and see if we can become more efficient without compromising on integrity, regulations and principles. Let me tell you about some of these tasks:
Expense reporting. According to regulations, each receipt needs to be scanned, attached to the expense report, and then the whole report has to be printed and submitted. Can we optimise things here? For example, I always prefer to get receipts in digital form, so that i can immediately forward them to my assistant. Or, maybe they can automatically go to my assistant or a special inbox with my receipts? Or should we integrate with SAP directly and skip sending receipts to inboxes? (note: Uber offers this functionality already). Can we automate report printing and posting as well?
Purchasing. I have a simple rule: I delegate to my assistant to approve all purchases that are obviously motivated and are under a certain amount. These are 95% of all purchases. This sounds like a simple script to me. Don't tell my employees.
Time reporting. Some lucky people like myself do not need to do time reporting. But most of our employees face a complex project structure. For example, when you work on EU projects, you need to track all the hours, and report them accordingly. If my time is split between five projects, can I please have 5 buttons on my screen and click on them in accordance with the project I am working with? Or, can we let an AI figure out which project someone is working on judging from the context?
Monthly reporting. I have a feeling that most of the people find monthly reporting boring when it in fact should be joyful and an opportunity to tell your colleagues about your progress. Let's make it joyful. Let's forbid sending snippets of text via mail. Let's forbid copy-pasting. Let people write about things they are proud of, or things that they believe need attention. Let us use our favourite platforms for that, and don't force people to do it once per month. And every piece of news should be hash-tagged so that later on anyone could easily create an on-demand ad-hoc report. My boss should be able to check out all achievements of my organisation towards a certain stakeholder within a certain time interval, for example.
Keeping track of employee inflow-outflow. This sounds easy, but it's not. For normal employees we need to track the status – empty position – job offered – contract signed – started. Not all of these states are reflected in our HR system but we still need to keep track. We also have many different kinds of interns – summer interns, master thesis workers, PhD students, postdocs, some with salary from our company, some without.
Employee onboarding. When you join our company you get an account, email address, computer, phone, desk, screen, chair, etc which is a pretty generic starter kit. Of course you can choose which phone you would like to have and which computer you would like to have. I can think of a simple web form for all new employees where the computer/phone model gets chosen, and an automatic purchase gets triggered.
Scheduling meetings. I start by saying that I love meetings. It's probably the first time you heard anyone say that. The trick is that I became very picky with which meetings I attend. I simply choose the ones that I love – content-heavy and action-oriented, aiming at creating impact.
And anything else that you may find inefficient – challenge me!
The skills: hacking, scripting, SAP, Sharepoint, RPA. You come with an open mind and we give you access to our tools. You will also get this hoodie from me personally (used, by me, during my postdoc time in Paris).